Global Co-operation House ,
65-69 Pound Lane, Willesden Green,
London
NW10 2HH
3rd in a series of 4 webinars (monthly sessions) organised by The Janki Foundation in collaboration with Brahma Kumaris,UK.
Four interactive online sessions sharing insights on loneliness and solutions to re-discover the joy of solitude.
Feeling alone has a significant impact on physical and mental health and in the current climate of COVID-19, with varying degrees of seclusion, isolation has become a more prominent part of people's lives.
This series of webinars will review current knowledge, explore new perspectives and provide an array of creative and spiritual tools to help us understand, transform and embrace this enforced time of isolation.
Sessions take place monthly on Saturdays, 4pm-5:30pm GMT:
December 5th 2020 - Being Alone: Isolation or Retreat?
January 9th 2021 - Taking Care, Valuing your Well-Being
February 6th 2021 - Self-Expression and Creativity
March 6th 2021 - Empowering and Implementing Choices
Join our panel of presenters from health and social care, who will bring a wealth of experience from diverse personal and professional backgrounds.
Panel:
Dr Mina Bobdey - Consultant Psychiatrist, London
Maggie Parle - Retired Hospital Social Worker
Reena Raj - Applied Positive Psychology Practitioner and Coach
Dr Astrid Bendomir - Consultant Occupational Health Physician
Suja Chandran - Hospital Social Worker and Educator
Sharon O'Regan - Group facilitator, Community Project Work
Deirdre O'Toole - Variety roles in NHS, including Governance Lead
The Convener will be Dr Karla Mistry, Community Psychiatrist
FREE Admission but Registration is essential to recieve a link to the event.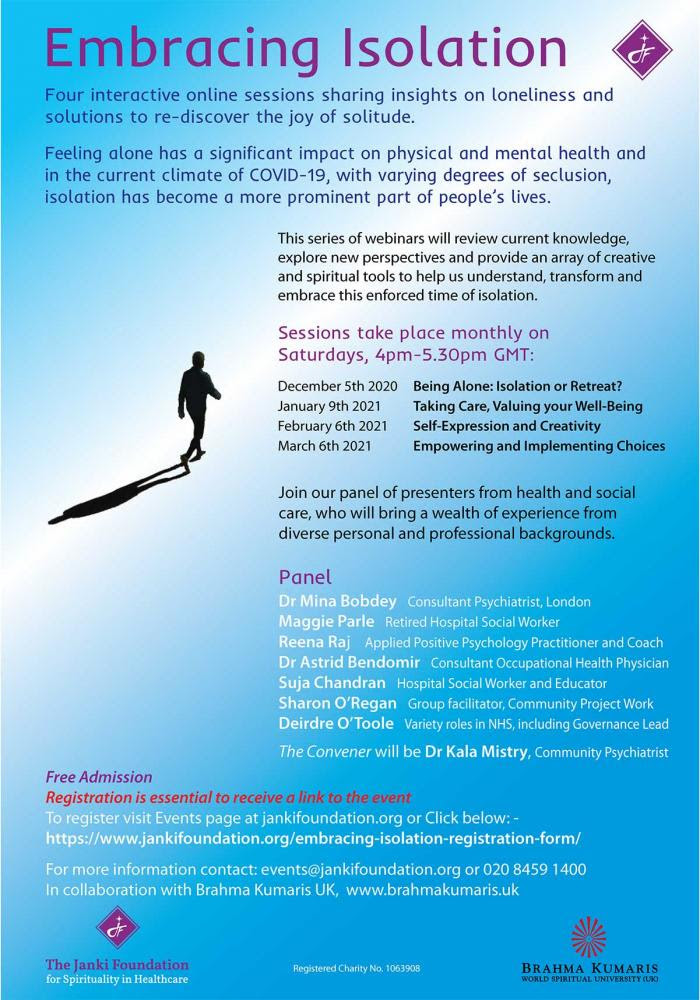 Date(s)
There are currently no planned dates.